L'expo Web2.0 c'est aussi des start-ups qui présentent leur produit dans les couloirs de l'expo. J'avais dans le radar the todeka project de Charles Nouÿrit depuis un moment, l'expo Web2.0 a été l'occasion de le rencontrer.
Qu'est ce que Todeka? Tout d'abord The todeka project s'appel désormais MyID.is, pas mal comme nom de domaine, non? Vous devez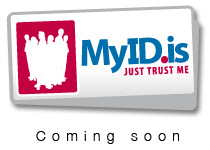 déjà avoir une petite idée du sujet auquel s'attaque Charles: l'Identité Numérique. Ce n'est pas forcément évident au premier abord mais on est en plein coeur de la problématique web2.0. D'ailleurs Il a beaucoup été question d'openID durant l'expo, myid.is est une implémentation d'openID.
Charles m'a montré l'application qui devrait sortir incessamment sous peu, dans le mois qui vient, bientôt… Très belle interface, à la Netvibes, des widgets partout (autre tendance forte du web2.0: la widgétisation du web). Plusieurs onglets chacun représentant une identité différente. Les widgets dans les onglets permettent d'agréger dans cette page les informations concernant votre identité numérique (comme ziki) qui sont actuellement répartit sur le web: votre/vos blog(s), comptes flickr/youtube,… Les widgets sont aussi exportables et donc affichable dans d'autres sites, notamment le widget badge qui permet de certifier qu'un contenu sur le web vous appartient.
Donc jusque là, pas grand chose de nouveau, belle réalisation, belle intégration il m'a semblé mais rien de nouveau. La vrai différence que devrait apporter myID.is sera la certification de votre identité par un procédé que Charles n'a pas voulu me révéler totalement avant le lancement officiel. Mais il reposera sur des contrôles online et offline ainsi qu'un mécanisme similaire à la validation d'un compte sur paypal (micro prélèvement sur votre bancaire qui fait apparaître un code dans vos relevés bancaires que vous saissisez ensuite sur le site)
Un beau projet, ambitieux, il s'agit ni plus ou moins de rajouter la couche d'identification qui manque au web en s'appuyant sur des briques bien conçu comme openID.
Ce billet est l'ocassion de vous inviter à découvrir les 7 lois de l'identité définie par Kim Cameron de Microsoft suite à l'échec de la technologie passport.
Est-ce que myID respectera ces 7 lois de l'identité?
1. User Control and Consent:
Digital identity systems must only reveal information identifying a user with the user's consent.
2. Limited Disclosure for Limited Use
The solution which discloses the least identifying information and best limits its use is the most stable, long-term solution.
3. The Law of Fewest Parties
Digital identity systems must limit disclosure of identifying information to parties having a necessary and justifiable place in a given identity relationship.
4. Directed Identity
A universal identity metasystem must support both "omnidirectional" identifiers for use by public entities and "unidirectional" identifiers for private entities, thus facilitating discovery while preventing unnecessary release of correlation handles.
5. Pluralism of Operators and Technologies:
A universal identity metasystem must channel and enable the interworking of multiple identity technologies run by multiple identity providers. (Starts here…)
6. Human Integration:
A unifying identity metasystem must define the human user as a component integrated through protected and unambiguous human-machine communications.
7. Consistent Experience Across Contexts:
A unifying identity metasystem must provide a simple consistent experience while enabling separation of contexts through multiple operators and technologies. (Starts here…)